Mazes and blog postings about how to draw a maze and other cool stuff for you to learn in your free time or when you have a few minutes at work.
Cartoon Maze of Israel's PR team. Barrel of Monkeys and 3 Stooges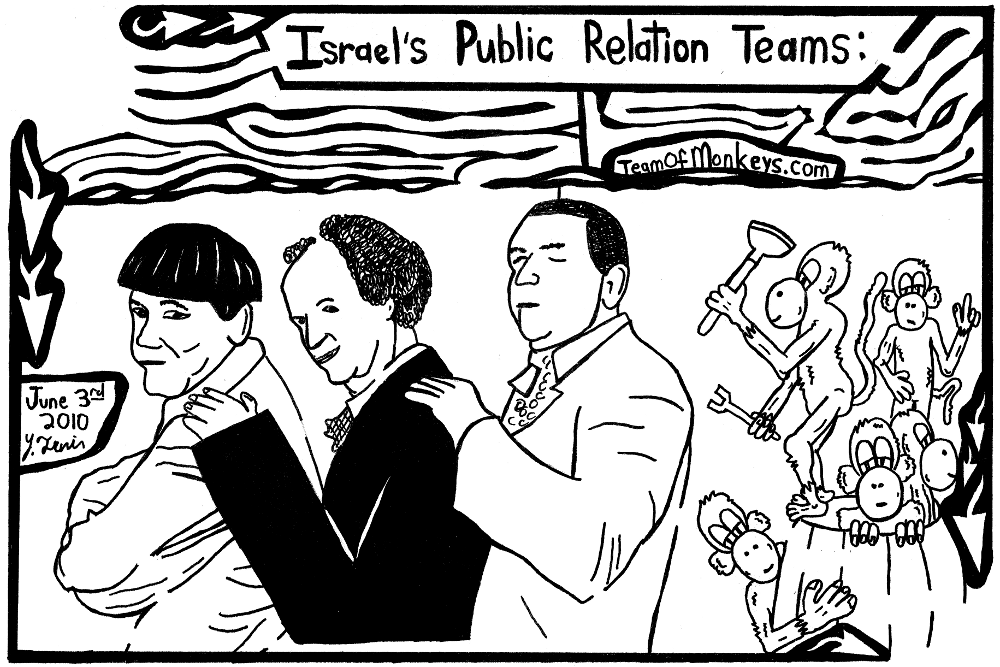 Maze cartoon of Israel's incompetent public relations team. A barrel of monkeys and the 3 stooges. Created by Yonatan Frimer
Click here for a printable, hi-res version of this maze
Click here or on the image for the maze solution.
For more Yonatan Frimer Mazes, visit:
Team Of Monkeys Political Maze
Political Maze on Go Comics
Ink Blot Mazes Maze Art
Maze Art on Fine Art America
Maze Blog
More on this maze's topic:
Ben-Eliezer says Israeli PR 'disgrace'
Labor minister says faulty PR management during flotilla raid affair 'led us into the bad situation we are in,' but party chairman Barak says incident complex, making it 'difficult to defend'

During a meeting of Labor ministers on Thursday, Industry, Trade and Labor Minister Binyamin Ben-Eliezer leveled harsh criticism at the management of Israel's public relations outlay during the recent flotilla raid affair. He called the PR layout surrounding the incident a "disgrace," and said "it has led us into the bad situation we are in."

Read the entire article on ynet

Labels: 3 stooges, barrel of monkeys, cartoon, flotilla, frimer, israel, joke, maze, maze cartoon, mazes, public relations, three stooges, yonatan, yonatan frimer